March 14, 2017 (Pasco, WA) – One of the most lively and passionate of all the presentations at the recent Collision Industry Conference (CIC) January in Palm Springs, California came from industry veteran Frank Terlep with a special presentation, "CIECA BMS: Industry Standard or A New Way to Control, Centralize and Monetize Industry Data?". Covering the history of EMS and the foundation of where BMS came from, he reviewed potential ramifications of the change in vendor usage of this new standard. Taking it all the way to the end, he surmised that the vendors utilizing the standard will create new costs to the repairers and vendors. It is important to also note that work on this important subject will continue into future meetings of the CIC with the creation of the Open Systems, Data Access and Sharing Task Force.
During the special presentation, Terlep became more animated as he also highlighted some of the "Fine Print" in the user agreements: Existing (EMS) standard for shops will be "retired" in April of 2018; EMS for independent appraisers WILL NOT be "retired"; the BMS Secure Share API is not being offered to insurance companies. More pointedly, he also noted: <Company> may reject or terminate access to the API Documentation for any reason; <Company> may terminate Agreement and revoke access to Account Information/Data for any reason, at any time!
Going through the pictorial representations of data flows (see image below), he surmised that about 22,000 shops' EMS data will flow through a BMS system of one company and effectively create a spigot of which through all vendors and users will be funneled, and at a cost to all third-party developers or all those who interface to the system. Any 3rd Party company that wants to use the new BMS API will need to spend time changing their existing EMS based integrations! This could cost the industry tens of millions of dollars and delay other development and projects and the cost of doing business for shops and all other affected parties goes up.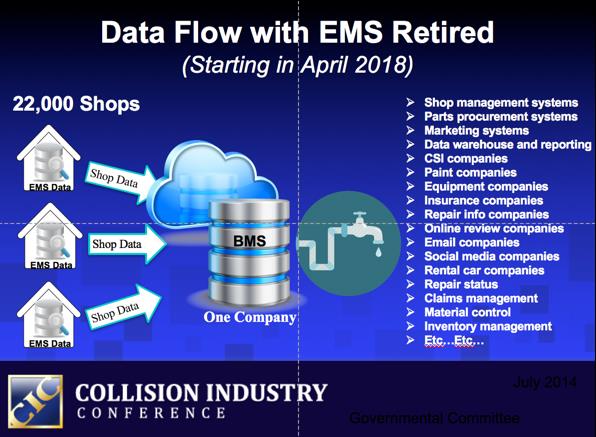 As other potential ramifications, Terlep offered the following:
Shops lose ownership and access to their data
Less competition
Less innovation
Access to basic industry data limited or cut off
Existing business models upended
One company gains control of an industry standard and basic industry data
Audience polling revealed that 94% think that a "for profit" private equity driven company will be tempted to generate excessive profits and/or prevent competition through the use of data generated via an industry standard. Audience members also overwhelmingly responded to have CIC create a task force/committee to perform more due diligence and provide a position statement on these issues.
The new "Open Systems Data Access and Sharing" Task Force has planned a 90-minute panel discussion for the next CIC meeting in Pittsburgh. The panelists will include companies, organizations and collision repairers that will be affected by the new BMS announcement and they will discuss how it affect their individual businesses and the collision industry in general.
The Collision Industry Conference (CIC) is a forum made up of participants from all industry segments for the expressed purpose of discussing and exploring the issues that occur among them, to fulfill the mission of "A collision industry in which all segments work together to enable a complete, safe, and quality repair". Through discussion and research during meetings and extensive interim committee work, CIC attempts to form consensus on various issues, aware that all such findings are nonbinding and voluntarily accepted. More information and upcoming meeting schedule may be found at www.ciclink.com/schedule